Elite Martial Arts is proud to have formed an affiliation with The Sports Authority of Thailand.  This is a direct certification through the Thai Government that holds our school to the highest training standards possible.  The Muay Thai classes cater to all levels from complete beginner to experienced fighter.
The program is overseen by EMA Head Instructor Kru Yai Dan Novak & Ajahn Suchart.  Ajahn is Canada's first Muay Thai Instructor and currently serving as the Canadian National Muay Thai Coach.
Many of the industry's top Muay Thai instructors in the GTA and for that matter, worldwide  can trace their lineage and training back to Ajahn (Including EMA's own Dan Novak who has trained extensively with Ajahn).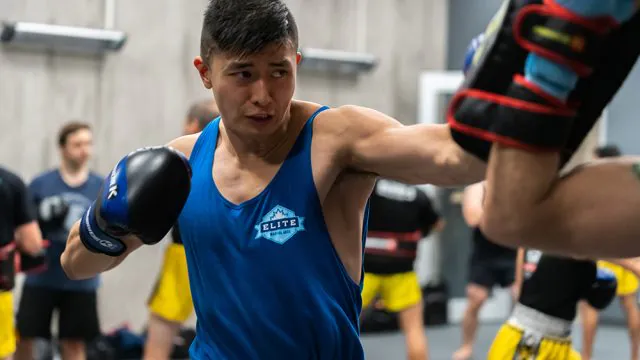 The Muay Thai program offered at Elite Martial Arts Toronto and Mississauga is authentic and properly taught as Muay Thai should be.  All of the teaching methods and cultural aspects of traditional Muay Thai training have been held to the highest of standards.  All of Muay Thai's most effective techniques are taught to our students, including but not limited to punches, elbows, knees and kicks, as well as the corresponding defenses and clinch work.
Each Muay Thai class puts a great deal of emphasis on striking, defense, footwork, core strength, agility and endurance. These are the basic building blocks of Mauy Thai training that will form the foundation of your skill base as you progress through the system.
Each Muay Thai class begins with a full body workout that is designed specifically for Muay Thai training, followed by lesson plans that teach techniques on a progressive basis to build your skills over time.
Students that enroll in Muay Thai do much better with their Krav Maga training. The two Martial arts are the ultimate compliment to one another. The devastating and effective techniques from Muay Thai can immediately be transferred to the street fighting aspects of Krav Maga. The end result is that students of Elite Martial Arts are getting a distinct training advantage over students enrolled in programs that are more one dimensional and out dated.
Our Muay Thai program is not only accredited by the Sports Authority of Thailand but EMA is also a recognized member of Muay Thai Ontario (MTO). Students in our Muay Thai program have the opportunity to move up the Muay Thai rankings, achieve various certifications and even pursue competitive Muay Thai bouts at MTO sanctioned events.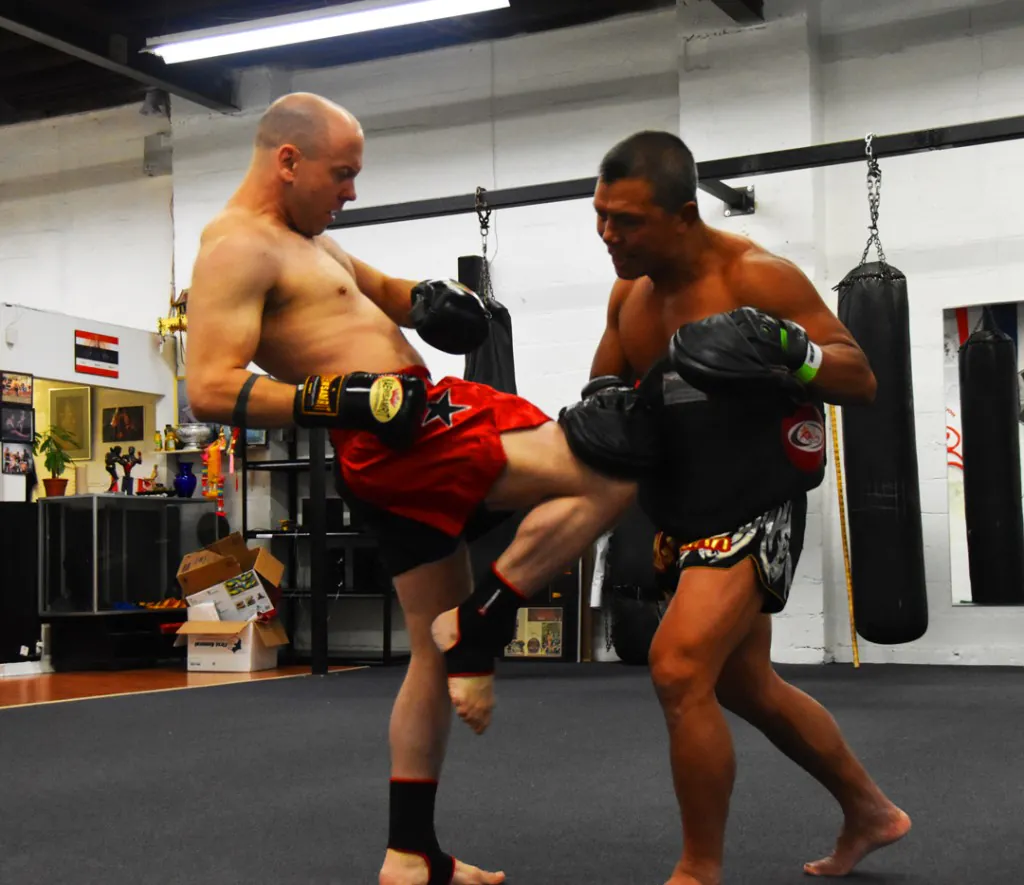 Testimonials
---
"I had been training in Krav Maga at Elite Martial Arts for 8 months when
I decided to enroll in the Muay Thai program.
The training is intense and rewarding, focusing on the fundamentals of
Muay Thai. Dan and Nadine are detailed and intelligent instructors who
make sure students understand the basics of Muay Thai in order to lay the
foundation for their future growth as a martial artist.
The pre-class workout is targeted towards body strength and cardio and is
a great way to get in shape fast. I enjoy every class and always leave
having learned something new. My Muay Thai training has complemented my
Krav Maga training, allowing my striking to become faster,stronger, and
more accurate. Overall it has been a challenging and rewarding
experience!"
– Patrick Gallant