EMA Toronto Owner & Head Instructor
Dan Novak is currently serving as EMA Toronto Owner & Head Instructor, as well as Krav Maga Director/President for the Martial Arts International Union (MAIU).  Dan is also serving as President of the Naikhanomtom Association of Canada (Direct Liaison with the Thai Government),  developing and implementing teaching criteria, curriculums and standards for Canadian Muay Thai.  In fulfilling these positions, Dan has certified many of the industry's top instructors who have successfully gone on to open their own schools in Canada, USA and beyond with the credentials they have earned from Elite.
Dan is a lifelong student of Martial Arts. Before founding Elite Martial Arts Toronto, Dan spent 15 years working as a Correctional Officer for the Province of Ontario. It was through his experience in this profession that Dan realized for a method of self-defense to be effective in the real world, an individual must train for real world situations. His search for a realistic form of self defense led him to Krav Maga. Dan is a 1st Degree Black Belt & an Expert Level 6 Krav Maga Instructor under Edward Wood of The Krav Maga Association of Canada.
In addition to his extensive Krav Maga credentials, Dan boasts a very impressive Muay Thai resume.  He has successfully competed in both local and international shows.  He has received his Muay Thai training/education in both Canada and Thailand.  In 2016, Dan earned the highly regarded Instructor rank Kru under Ajahn Suchart of Siam.No1 Muay Thai.  He is among the quickest of individuals to earn this rank in Ajahn's prestigious career. In 2022 his continued efforts and his commitment were recognized with the ranking of Kru Yai.
Many Instructors promote that they have trained those who work in the field of Law Enforcement, Military and Security. Dan has actually lived it.  Dan sincerely cares about the students he teaches and is willing to do all in his power to help them succeed and reach their individual training goals.
"Krav Maga is very effective! If anything, it's more effective for self defense than MMA. Krav is practical and simple. The objective is to eliminate the threat, not dance around and flick out a couple of jabs. As a Correctional Officer at a maximum security prison, Krav trains me to defend myself in some of the most aggressive environments and prepares me for worst case scenarios. Leave your training needs in the hands of Instructor Novak. You will not be disappointed. He is a highly skilled Krav Maga Practitioner." F. Larry, Correctional Officer
EMA Toronto Senior Lead Instructor
Fulfilling the EMA Toronto Senior Lead Instructor is EMA's own Matthew Bennett.   In 2019 Matt became the first individual in the school's history to receive the rank of 1st Degree Krav Maga Black belt and Expert level 6 Instructor  from EMA Owner and Head Instructor, Dan Novak.  In addition, Matt is also Muay Thai Blue Shorts.
Matt brings with him many years of Martial Arts and boxing experience.   He has also established himself as a very successful actor in feature film and production.  The combination of Matt's life experiences, both professionally and in Martial Arts comes through  in every class that Matt offers.  He is well spoken and has the unique ability to understand the needs of each of his students and maximizes each student's potential for success.
Matt has recently specialized his training in Weapons Defense techniques.  Such techniques have played a vital role in Matt's film career in various action roles he has obtained in both Movies and Television.  His active interest in this area of Krav Maga training has developed him into one of the school's most proficient weapons defense instructors.  Matt his highly respected among EMA students and staff.  Elite is extremely fortunate to have the services of Matt offered at our school.
For additional information on Matt, please visit his officially IMBD page
EMA Toronto is very pleased to welcome a very experienced and decorated Senior Lead instructor Steve Warnica to our Krav Maga Team!  Steve has over 16 years of Krav Maga experience.  He has previously served as Lead Instructor and Manager at Wood's Premier Martial Arts.  In this role, Steve played an instrumental role in training and instructor EMA Founder and Head instructor Dan Novak.  Steve earned his 1st Degree Black Belt under Krav Maga Canada head Instructor Edward  Wood.  He is also a Muay Thai Blue Shorts under Kru Dan Novak. 
Today Steve is leading high energy and educational Krav Maga group classes at Elite.  Steve's classes are among the most popular at the school and frequently get fully booked well in advance.  This is a true reflection of his expertise and the enjoyable atmosphere he creates in each class.  Not to be one to settle, Steve is still actively training, improving and growing his ever expanding Martial Arts resume.  Elite is in a very fortunate position to welcome such highly trained and Martial Arts educated individual to our team.
KRAV MAGA SENIOR LEAD INSTRUCTOR
With experiences comes knowledge and Nick Valentino can serve as the personification of that expression.  Nick comes to Elite with over 7 years Krav Maga experience.  He is a Krav Maga Black Belt under EMA Founder/Head Instructor Dan Novak.  Nick is also a Muay Thai Blue Shorts, which he earned while he was simultaneously training for his Black belt! 
Perhaps even more valuable than his Martial Arts credentials is the fact that Nick has over 20 years of service as a provincial Correctional Officer.  5 of those years were spent as a shift partner to EMA's Dan Novak.  Nick brings a wealth of real world knowledge and experience to every class he teaches.  When Nick provides his classes, students always leave with more knowledge than they had before class.  Nick is a natural teacher who is still active in coaching youth soccer and is currently training fellow offices in staff training for the Ministry of Corrections.  EMA Toronto is very fortunate to welcome such an experienced individual to our team who possesses real world knowledge, in and out of the studio!
EMA Toronto has a long history of developing the very best Krav Maga students and Instructors not only locally in Toronto, but among all of North America.  Over the years, Elite has taught and certified instructors all over the GTA, Canada and the USA.  With such experience and large network of professional Instructors, being among the top percentage would be a massive accomplishment. Enter EMA  Toronto's own Jeff Gorrill. 
Jeff came to the school little over 4 years ago with limited Martial Arts experience. Since then Jeff has enjoy the most rapid progression in the history of the school.  Jeff currently holds an L4 Instructor Certification with the Martial Arts International Union and recently earned his Krav Maga Black belt in 2022. 
Jeff is well spoken and precise when conducting his classes. Patient and encouraging with students, Jeff brings an energy and enthusiasm to his classes that is enjoyed and appreciated by our students.  Recently Jeff tested for and achieved his L4 Instructor certification.  With a bight teaching career ahead of head, Jeff has an extremely high ceiling and possesses all the intangibles to achieve anything he sets his mind to.  Jeff is no doubt a huge part of the present and future of our school.
Kru Yai Harold Mah has been training, teaching, fighting, and officiating in the art of Muay Thai and other traditional martial arts for over 20 years.  He takes great pride in developing students to bring out their warrior spirit and resilience they never knew they had in them.  In his past, Kru Yai Harold has guided and trained high altitude trekkers throughout Nepal, Asia and summated Mt. Kilimanjaro.  He is a three time Ironman and has run marathons throughout North America.
In addition to his very impressive Muay Thai credentials, Kru Yai Harold trained for and earned a Krav Maga Black Belt in 2022, as well as his level 5 instructor rank.  This has resulted in Kru Yai Harold being an  instrumental part of the Krav Maga program offered at Elite. He is also a certified Instructor with ASP Tactical Weapons and the Blauer Tactical Spear System.
"Never stop enjoying life and finding new experiences everyday."
Among EMA's growing pool of talented instructor's, we are extremely pleased to welcome Kru Arash Kiarash to our team.  Kru Arash comes to our team with many years of Muay Thai experience.  Many of those years were spent training with EMA's own Kru Yai Harold Mah!
Kru Arash is a highly talented and educated Muay Thai practitioner.  In addition to being a practitioner and competitor, Kru Arash can also be found working Muay Thai Ontario shows as an official.  He is instrumental in Elite's Muay Thai program helping students and fighters of all levels.  He has also been active in our Krav Maga classes as a student in his continued Martial Arts journey to always educate and improve himself.
All of his classes are high energy, welcoming, yet challenging and bring out the very best in each of our students!
Lead Muay Thai Instructor
Nadine Donald is currently serving as our school's most senior Instructor for the EMA Muay Thai program.
Nadine comes to our school with a great variety of Martial Arts experience that makes her a true asset to our team. Before finding her way to Mauy Thai, Nadine acquired years of experience, holding the rank of Karate Brown Belt and an established  Kickboxing background. When she arrived at SiamNo1 Muay Thai, she truly found her final calling in Martial Arts. She quickly worked her way up the rankings at SiamNo1. She possesses the rank of Muay Thai Blue Shorts and the highly regarded Instructor rank of Kru.
Along with her extensive Martial Arts credentials, she impressively won the "Student of the year" award at SiamNo1 in 2015. Her Muay Thai classes are a favourite among EMA students for her up-tempo, effective workouts.  In addition to the excellent workouts, she possess the ability to clearly break down Muay Thai techniques so that skills can be effectively transferred from teacher to student. Students who attend her classes are excelling in our Muay Thai program and are also acquiring transferable skills that are making their Krav Maga techniques more proficient.
As Nadine continues to contribute her expertise and abilities to our school, our students will truly be the beneficiaries of the excellent Muay Thai classes she provides!
EMA East Coast C0-Founder and Head Instructor
With great experience, comes great knowledge and nothing could be more true as it applies EMA East Coast Co-Founder and Head Instructor Fredrick Johnston!  Fredrick has proven himself to an excellent Krav Maga practitioner, earning his Black Belt with the graduating class of 2018.   Shortly thereafter, Fredrick co-founded EMA East Coast, proving Krav Maga and Fitness training to Canada's East Coast Provinces.   Fredrick currently holds the rank of Krav Maga 1st Degree Black Belt under EMA Founder Dan Novak and is an Expert Level 6 Krav Maga Instructor with the Martial Arts International Union.  In addition to his Krav Maga credentials, Fredrick is also a Muay Thai Blue Shorts, which he earned in 2016.
Fredrick takes his years of Martial Arts experience, as well as a patient and helpful approach in all of his classes.  His lessons as well constructed, easy to follow and each of his classes provides our students a great learning environment to bring out the best in each of our students.  EMA is very fortunate to have him on our team and we look forward to seeing where he takes his teaching career.
EMA East Coast Co-Founder and Head Instructor
Billie Johnston has established herself as a constant pillar in the EMA Community.  In 2018 She received her Krav Maga 1st Degree Black belt from EMA Head Instructor Dan Novak.  Billie is also a qualified Expert Level 6 Krav Maga instructor with the MAIU, providing her the highest instructor rank possible.
In 2019 Billie successfully co-founded EMA East Coast, providing ongoing Krav Maga and Fitness workshops to communities in Canada's eastern provinces.  Billie has a great future with our organization.  Both staff and students greatly appreciates all of Billie's hard work and efforts.
Team Elite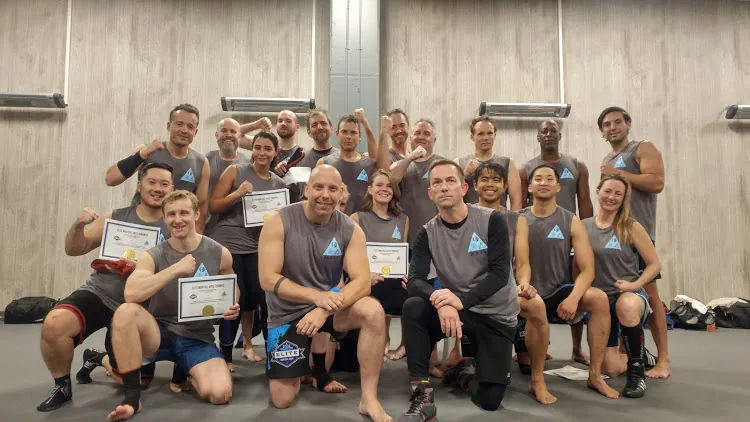 In addition to EMA Toronto's Lead Instructors, our school has assembled a professional team of highly talented staff that provide ongoing support to our students. Each of our support staff have been professionally selected and developed to provide our students the best possible instruction. All of our team members are required to pass the in-depth Instructor Certification course offered through The MAIU.  All of Elite's Lead Instructors hold the rank of Black belt or above.
Our instructors have been closely examined & critiqued for both teaching proficiency and physical ability. In order to maintain the highest quality standards possible, instructors are closely monitored throughout their teaching careers.  All of our school's instructors are required to maintain their certifications through continuing education, training & enrollment in the MAIU Instructor course.
---